Surname and name: Parfieniuk Vladimir
Place in which he lives, country and continent: Hajnówka, Warsaw, Poland/

Modena, Italy, Europe
Occupation: linguist, logistic,

tsunami instructor

Degree in tsunami: 8 dan (since 2012)
Title in tsunami: hanshi ('the master of masters')
Position in Federation: The Vice-President of Karate Tsunami Renmei – International Tsunami Federation (since 1995) and The Vice-President of Polish Martial Arts Federation (since 2006)

Statement on the subject of tsunami:
Tsunami boldly one can call the way of success, the self-realization and the extraordinary way of the development in everyday life on the basis of martial arts. After twenty years of improving in Tsunami with absolute certainty I state, that real practice in this system, my achievements are evidence of that, gives the incredible advantage in comparison to other systems of improving.
With authorization of the founder of Tsunami system - soke Richard Murat 10 dan I develop tsunami in the international scale, so I treat promotion of this system as essence of my own life, and in consequence improvement of health and fitness of other people and thanks that make world better and better.
For I set for myself also the task of ruthless fight against enemies of Tsunami and with individuals with various kinds of mental aberrations, whom do not like the development of this system in Poland and in the international scale.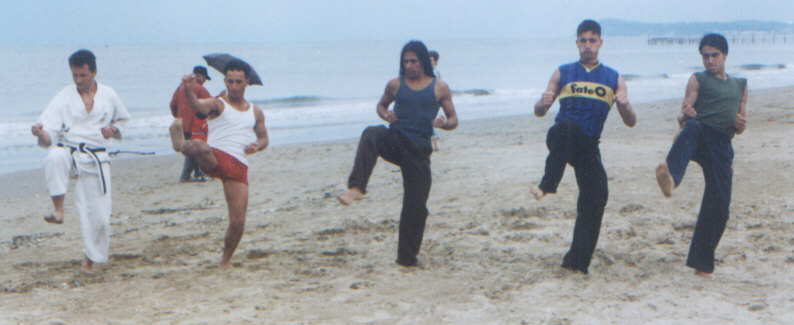 Hanshi Vladimir Parfieniuk 8 dan is famous of his excellent-precise and strong techniques and the extraordinary effectiveness in real fight. For this reason he is called "The beast" (his was nickname by soke Richard Murat 10 dan
in recognition of Vladimir Parfieniuk's murderous abilities). His abilities exertive huge impression on contacting with him representatives of various styles all over the world, both: Russians from Siberia, as well as inhabitants of warm countries, whom willingly start practicing under his direction. On the photo he runs a training with one of groups of it Italian pupils, mainly instructors of Thai boxing (muai thai) and of kick-boxing, on the beach in the famous Rimini health spa at the Adriatic. The typical exercise for tsunami-the kick mae-geri-kekomi.
About successes hanshi Vladimir Parfieniuk 8 dan came out a lot of articles at the Polish and foreign-language press, also Orthodox Church's press and in Byelorussian language, and even Greek language. On the photo there are examples of these numerous articles – od lewej: 'Shihan – Rozmowa z Włodzimierzem Parfieniukiem mistrzem karate tsunami (6 dan)' - białoruskie pismo społeczno-kulturalne ,Czasopis'', nr 2 (181), luty 2006 roku; 'Tsunami – droga na całe życie' - "Kurier Poranny Hajnowski'' , nr 96, 24 stycznia 2006 roku; 'Prawosławny karateka' - ,,Wiadomości Polskiego Autokefalicznego Kościoła Prawosławnego'', nr 2(195), rok 2006; 'Bajawy U.Parfjanjuk' – białoruski tygodnik "Niwa", Białystok, nr 2 (2591), 8 stycznia 2006 roku; "Wałodzia – majstar z Warszawy" białoruski tygodnik "Niwa", nr 13 (2185), 29 marca 1998 roku.